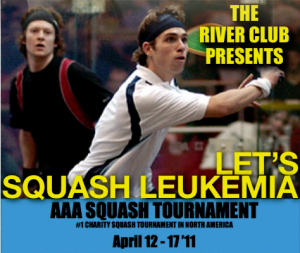 The River Club and its members are very pleased to announce the "Let's Squash Leukemia 2011" squash tournament, to be held at The River Club in Richmond the weekend of April 13-17, 2011.  This action-packed tournament is to raise funds for The Michael Cuccione Foundation, a charity which has devoted its efforts to eradicating childhood cancer.
Our 2 previous tournaments raised over $70,000 with the support of our sponsors and player participation, all of which is donated to benefit children's cancer research through The Michael Cuccione Foundation.  Michael Cuccione was a remarkable young man who was diagnosed with Hodgkin's lymphoma as a child, began his crusade for cancer awareness and research at the age of 9, and sadly passed away at the tender age of 16 due to respiratory complications.  His family continues the Foundation to carry on his wishes to truly "Make a Difference".
The Tournament Committee has confirmed entries from high level players, Viktor Berg, Justin Todd, Melanie Jans.
The Tournament Committee is looking for your help – sponsorship packages and prizes for the Prize Raffle and Silent Auction. Please contact John Fleury if you can help (jcfleury@apolloemrik.com).
The Tournament will include post-match dinners Friday and Saturday nights, and a casual finale with wine and cheese Sunday afternoon.
Take note that the Tournament will be AAA ranking, so it's well worth picking up your racquet.  There will be a Silent Auction with MANY exciting items donated by some of our sponsors, and Raffle tickets for some incredible prizes, such as Golf Foursome at Mayfair Lakes, $1,000 towards a trip to Las Vegas, Mason Raymond and Alex Burrows autographed jerseys, full membership at The River Club, and much, much more.
We invite all members of Squash BC and our North American squash friends to participate in this fabulous event.  Competition, camaraderie and a cause worth fighting for all add up to a weekend to remember.  If you cannot participate but wish to make a donation to "Let's Squash Leukemia", please email John Fleury, Chairman of "Let's Squash Leukemia", at  jcfleury@apolloemrik.com or phone The River Club at (604) 272-4400.
LINKS
Foundation's website:  www.makingadifference.org
Event website:  www.squashleukemia.com