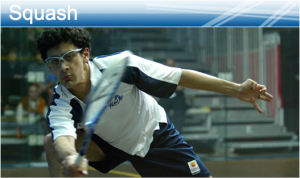 The 2011 Canada Games in Halifax has begun and squash in British Columbia is being represented by two teams of juniors. The girls team is Nicole Bunyan,  Brynn Constance Daniels, Abbey Foster and Lindsay Marie Seginson.
I've had the pleasure of losing to almost every one of the members of the boys team at one time or another (except for Tyler who we both know could destroy me on court.) The boys team is Mac Foster, Michael Thompson, Zac Leman and Tyler Olson.
The coach of the BC team is Jeff Boag and their assistant coach is Rebecca Fouchard Vassilakakis.
GOOD LUCK gang!
Track them on the official Canada Games website.
(Recognize the good looking fellow in the photo above? None other than Rafik Bhaloo. Yet another junior who repeatedly kicked my butt. LOL. Fique – remember our "C" final marathon match?)