The VIII Panamerican Junior Squash Championships just concluded in El Salvador and OUR Canadian teams deserve a huge round of applause!
Our girls lost to Mexico in the teams finals but Alix Younger, of Winnipeg, and Hollie Naughton, of Oakville, Ont, took home bronze in the women's doubles.
Congrats to Jennifer Pelletier, of Richmond Hill, Ontario, who won singles GOLD in a five setter over Karla Urrutia of Mexico. NICE!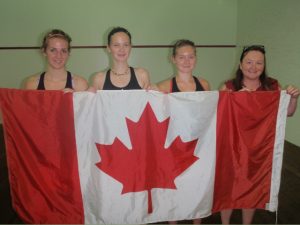 Girls L-R: Alix Younger, Jennifer Pelletier, Hollie Naughton and Coach Julie Multimaki.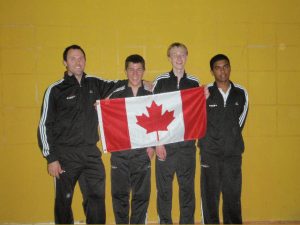 Boy L-R : Coach Jeff Boag, Zachary Leman, Tyler Olson and Joshua Sekhar.
Photos Courtesy of Jeff Boag.
LINKS
• Read more about the competition at SquashFlash
• Or in English at SquashSite