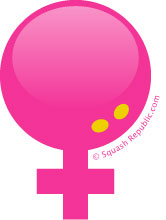 The Victoria Squash Club is hosting a one day squash tournament for women only on Saturday November 27th. Only 50 spots available!
It will start at 11:00am and run through to 6:00pm. The format will be fun games to 21 with handicaps (ie, In the case of a better player playing a player of lesser ability, the better player might start at minus 15 and the other at plus 10.)
There will be 2 divisions, one for the competitive players and one for the developing players.
Everyone will be guaranteed at least 3 games and the club will provide refreshments and light food all day.
Cost is $15 to cover prizes and food. To sign up please contact Stuart Dixon at sdixon@victoriasquashclub.com or call (250) 381-9511.
LINK > Victoria Squash Club