SquashFEST is an annual squash tournament run by the good folks at Squash Republic and sanctioned by Squash BC. It's held the 3rd weekend of July in Summerland British Columbia on the shores of Lake Okanagan at the Lakeshore Squash Club.
SquashFEST is the perfect squash tournament for families as children and dogs* are always welcome. There is access to Lake Okanagan directly in front of the club and a large family beach about 50 feet away. Most of the participants choose to camp on the property which makes it a truly unique and memorable event.
>> Read what players have said about our tournament.
The matches are played on the three courts of the Lakeshore Racquets Club which also boasts three beautiful drop-in outdoor tennis courts. (Yes, you can play tennis but there is a drop-in fee.) A glass back was added to court 1 in 2014 which truly makes it the "show court".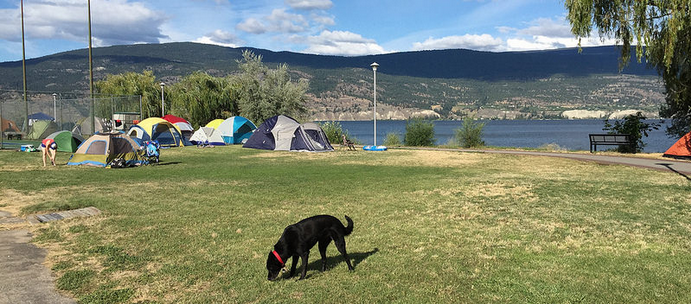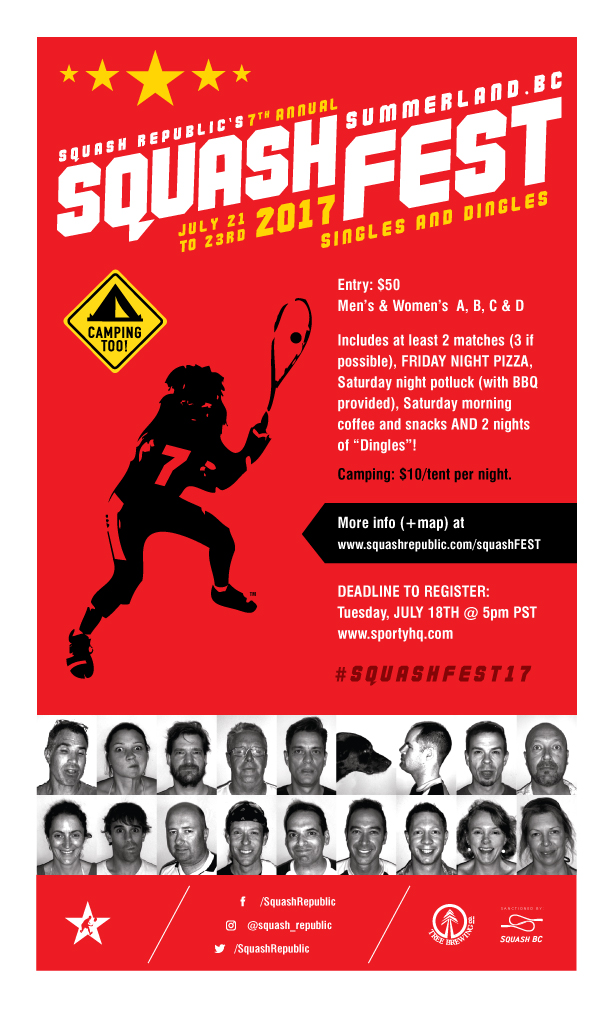 Check out our Dingles (Doubles on a Singles court) video to the tune of Kid n' Play's "Ain't Gonna Hurt Nobody":
GET YOUR SQUASH ON!!! https://t.co/I6Yxr1U6EF

— Christopher KID Reid (@kidfromkidnplay) July 19, 2016
Matches begin on Friday night (usually after 6pm) and the finals are played early on Sunday so that we're all done by the afternoon. Each registered players gets a couple of slices of pizza on Friday night! Let us know if you want to order extra for your kids or guests and we can organize that for you.
There will be coffee and Timbits on Saturday morning and on Saturday night we'll set up tables and chairs outside the club and enjoy a potluck BBQ dinner. Everyone is asked to contribute something and we provide the BBQ:)
This year we will again be running our famous midnight "DINGLES" (doubles on a singles court) tournament. The Dingles draw will be decided before the first round of play on Friday night with additional matches and the finals taking place on Saturday night. Team uniforms are encouraged and make sure you note your partner's name when you register. You don't need a partner to sign up or to play. We'll sort you out on Friday.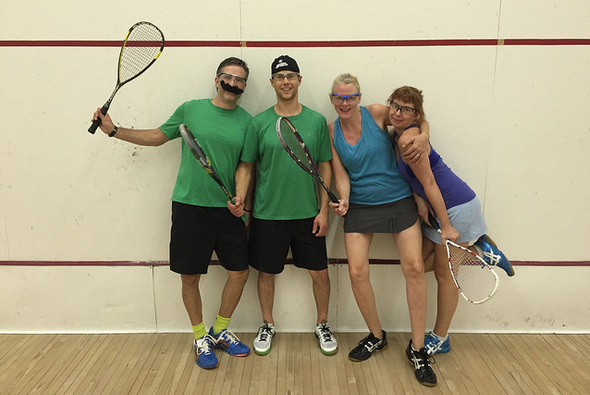 PLEASE NOTE: Fur babies must be on leash AT ALL TIMES on the property and are no longer allowed into the club house. Thanks for your understanding.
Save
Save
Save
Save
Save
Save
Save
Save
Save
Save