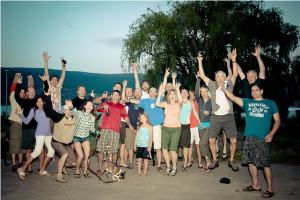 The 1st annual SquashFEST on the Lake '11 is a wrap.
We had an amazing time with an amazing group of people and can't wait to go back. Highlights included my first "Air Chair" ride and subsequent concussion – water is hard when you hit it going 20km! I'll never forget the "Midnight Dingles Incident" either! Potluck BBQ was amazing! There was so much food.
The weather was awesome and the camp dogs had a great time. Next year is going to be bigger and better for sure. Don't miss out.
Thanks to everyone who came and we'll see you next year:)
RESULTS
Tier 1 – Winner – Brooke Siver over George James
Tier 1 – Cons – Rebecca Vassilakakis over Tim Martin
Tier 1 – Plate – Ian McHarg over Paul Sterling
Tier 2 – Winner – Phil Croteau over Nicola Martin
Tier 2 – Cons – Keith LaHay over Rob Relling
Tier 2 – Plate – Troy Brown over Ben Cook
Tier 3 – Winner – Chad Forbes over Phil Rutter
Tier 3 – Cons – Barry Brouwers over Supha Borden
Tier 3 – Plate – Kevin LaHay over Deb Grotterod
Tier 4 – 1st – Rob Borden
Tier 4 – 2nd – Jason Michiel
Tier 4 – 3rd – Lauren Price
PHOTOS
We've got two Flickr sets of photos for you to view:
1) Set 1 by Chad Forbes of Mr. Forbz photography – He took the group shot shown above.
2) Set 2 by Robert Pacey of Squash Republic
SQUASH MUSIC
Want to hear the music we were listening to? Check out our Grooveshark playlist.
Don't forget to visit our sponsor: Manta World Sport