SquashFEST 2012 is a wrap! What an amazing weekend! I can't believe that it's over. Thanks to everyone who made it out and a big shout out to the Calgary crew!
See you all next year!

Congrats to our winners:
Women's Tier 1 – Nicola Martin def. Lulu Chou 3-0
> Women's Tier 1
Women's Tier 2 – Yasmine Franchi def. Sarah MacKinnon 3-2
> Women's Tier 2
Men's Tier 1 – Paul Adamiak def. Timbits 3-0
> Men's Tier 1
Men's Tier 2 – Sam Rao def. Sean Tennant 3-1
> Men's Tier 2
Men's Tier 3 -Simon Moreira def. Ian Williamson 3-2
> Men's Tier 3
PHOTOS >
Our photo set on Flickr
Mr. Forbz on Flickr
First match start times: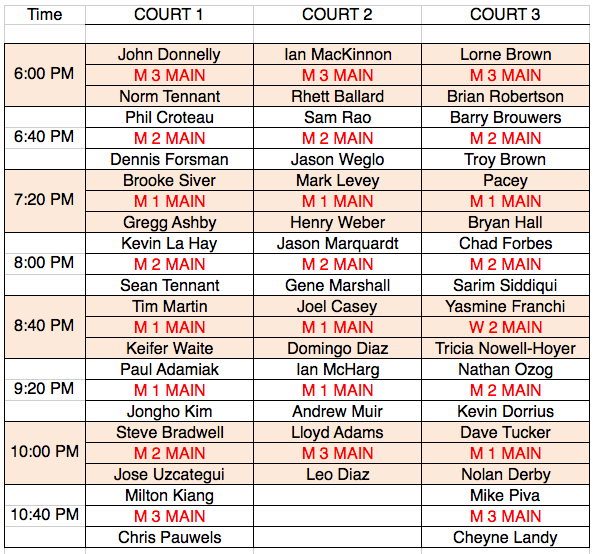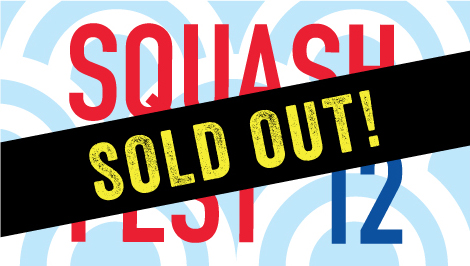 WE ARE SOLD OUT!
You read that right folks. The registration has been closed as we've reached capacity! It's going to be EPIC!
Squash Republic, Manta World Sport and Tree Brewing are pleased to present the squash tournament of the summer! Come join us for some squash, swimming, bocce, "Midnight Dingles", ping pong and wicked "Air Chairing" for the brave!
First matches are at 6pm on Friday July 27 with the finals on Sunday July 29, 2011 at the Lakeshore Squash Club in Summerland.
General Info
$45 per person (+ taxes)
Categories: Men's and Women's A, B, C and D
Registration includes pizza on Friday night, at least two matches and a tournament souvenir. On Saturday night we'll be having a potluck BBQ. We'll provide the BBQ and propane and you bring what you'd like to BBQ plus something extra to share (like dinner rolls, salad, fruit . . . ) This was the best part of last year's event:)
We've got lots of camping spots available for $5 per person per night. Book yours when you sign up online.
Out of town players: Almost all of us will be "out of towners" but everyone's expected to be there by 6pm on Friday. Let us know when if you're planning to arrive later than that and we'll do our best to accommodate you. Last start time on Friday is 9pm.
CLICK ON THE MAP FOR DIRECTIONS!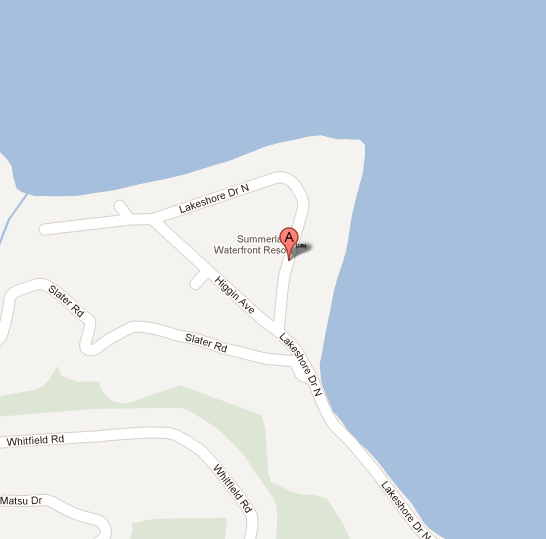 LIMITED TO 64 TOTAL ENTRIES.
Register online at Squash BC now!
Registration is now closed.

Deadline to register: 5pm on July 18.
CONTACT US
For further information e-mail: info@squashrepublic.com
Join us on Facebook
Check out photos from last year's event
Thanks to our official BEER sponsor Tree Brewing!
PLAYERS SIGNED UP SO FAR (As of July 18):
Men – Tier 1 – 16
Paul Adamiak (Calgary)
Gregg Ashby (VRC – Vancouver)
Joel Casey (Kelowna)
Nolan Derby (Calgary)
Domingo Diaz (Calgary)
Bryan Hall (SPC – Richmond)
Jongho Kim (VRC – Vancouver)
Mark Levey (VRC – Vancouver)
Tim Martin (EVE – North Vancouver)
Ian McHarg (Salmon Arm)
Andrew Muir (VRC – Vancouver)
Robert Pacey (VRC – Vancouver)
Brooke Siver (VLTBC – Vancouver)
Dave Tucker (VRC – Vancouver)
Kiefer Waite (Calgary)
Henry Weber (BEN – Vancouver)
Men – Tier 2 – 16
Steve Bradwell (ROS – Vernon)
Barry Brouwers (ROS – Vernon)
Troy Brown (NSC – Nanaimo)
Phil Croteau (GBF – Kelowna)
Kevin Dorrius (RRD – Revelstoke)
Dennis Forsman (VRC – Vancouver)
Chad Forbes (VRC – Vancouver)
Kevin LaHay (NEW – Surrey)
Gene Marshall (Calgary)
Jason Marquardt (Mesa, AZ)
Nathan Ozog (BEN – Vancouver)
Sam Rao (VRC – Vancouver)
Sarim Siddiqui (Calgary)
Sean Tennant (RRD – Revelstoke)
Jose Uzcategui (BEN – Vancouver)
Jason Weglo (ROS – Vernon)
Men – Tier 3 – 13
Lloyd Adams (WHI – Whistler)
Rhett Ballard (ROS – Vernon)
Lorne Browne (NEW – Surrey)
Leo Diaz (Calgary)
John Donnelly (LRC – Summerland)
Milton Kiang (VRC – Vancouver)
Cheyne Landy (Australia!)
Ian McKinnon (VRC – Vancouver)
Chris Pauwels (NEW – Surrey)
Mike Piva (TPR – Trail)
Brian Robertson (ROS – Vernon)
Norm Tennant (RRD – Revelstoke)
Ian Williamson (GBF – Kelowna)
Boys – Under 5
Brayden Brown
Everett Forsman
Women – Tier 1 – 8
Supha Borden (ROS – Vernon)
Lulu Chou (Seatlle)
Heather Kastelan (BEN – Vancouver)
Nicola Martin (JER – Vancouver)
Kimberley Ross (BEN – Vancouver)
Dara Sklar (JER – Vancouver)
Brenda Tansley (VRC – Vancouver)
Christine "Crash" Yablonka (Calgary)
Women – Tier 2 – 8
Ashley Bradwell (ROS – Vernon)
Leigh Derby (Calgary)
Melanie Dyck (Calgary)
Raylene Ferguson (BON – Burnaby)
Yasmine Franchi (VRC – Vancouver)
Sarah McKinnon (VRC – Vancouver)
Tricia Nowell-Hoyer (LRC – Summerland)
Lauren Price (VRC – Vancouver)