Where can I play squash in Vancouver?
Squash Republic is based in Vancouver, Canada and we're big on promoting the game of squash. Our first job is to let you know where you can find a squash court in Vancouver. If you live in Vancouver or if you're coming to visit check out this complete list of squash clubs and contacts.
We've noted which clubs are OPEN TO PUBLIC.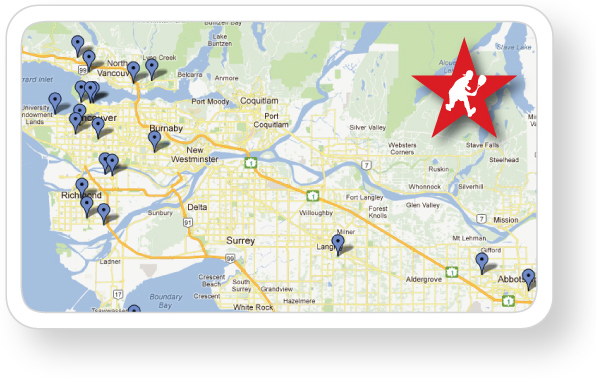 VANCOUVER SQUASH CLUBS
Arbutus Club
Pro: Ian Woodhead
Email: reception@arbutusclub.com
Courts: Five international glass back
VSL MEMBER CLUB

+
Bentall Centre Athletic Club
Pro: Andrew Lynn
Email: alynn@bcac1055.com
Courts: Five converted glass back with two racquetball courts
VSL MEMBER CLUB

+
Champlain Heights Community Centre
3350 Maquinna Drive
Vancouver, BC
(604) 718-6575
• OPEN TO PUBLIC
One court.
Drop in $9.85 – $13.78 in prime time
+
Denman Fitness
Courts: Three international

+
Dunbar Community Centre
4747 Dunbar Street
Vancouver, BC.
(604) 222-6060
• OPEN TO PUBLIC
Two courts.
Drop in $9.75 – $13.65 in prime time
Court fee includes Fitness Centre, Sauna & whirlpool
Both players must have a community centre membership
+
Jericho Tennis Club
Pro: Richard Yendell
Email: squashpro@jericho.ca
Courts: Four international glass back
VSL MEMBER CLUB

+
Terminal City Club
Contact: Sergio Hsia
Email: tccfitness@tcclub.com
Courts: Three international glass back
VSL MEMBER CLUB

+
Vancouver Lawn Tennis & Badminton Club
Pro: Justin Todd
Email: squash@vanlawn.com
Courts: Three international (two are glass back) and one North American doubles court
VSL MEMBER CLUB

+
Vancouver Racquets Club
Pro: Steve Lawton
Email: sglawton@vrc.bc.ca
Courts: Five international (two are glass back) and one North American doubles court
VSL MEMBER CLUB

+
West End Community Centre
870 Denman Street
Vancouver, BC
(604) 257-8333
• OPEN TO PUBLIC
One glass back convertible racquetball / squash court
+
YMCA – Robert Lee
955 Burrard Street
Vancouver, BC V6Z 1Y2
Phone: 604-689-9622
Two squash/racquetball courts.Community centre membership required.
robertlee@gv.ymca.ca
METRO VANCOUVER SQUASH CLUBS
Apollo Athletic Club – Abbotsford
Contact: Jim Buhler
Email: jim_buhler@yahoo.ca
Courts: Four regulation international (two convert to racquetball courts with squash court width)
+
Bonsor Recreation Complex – Burnaby
• OPEN TO PUBLIC
Contact: Lucas Bjerke
Email: Lucas.Bjerke@burnaby.ca
Courts: Four international glass back(one converted) and one racquetball court
VSL MEMBER CLUB

+
Delbrook Community Recreation Centre – North Vancouver
• OPEN TO PUBLIC
Court Bookings: (604) 983-6301 – Drop in $6.45
Courts: Two international glass back
+
Evergreen Squash Club – North Vancouver
(604) 985.8636
Club Pro: Thomas Brinkman
Email: thomas.brinkman@hotmail.com
Courts: Five international (one is glass back) and one North American doubles court
VSL MEMBER CLUB

+
Fitness Unlimited –  Richmond
• OPEN TO PUBLIC
Court booking: (604) 248-4776 ‎- First visit is free and $15 drop-in after that.
Courts: Two international glass back
+
Hollyburn Country Club – West Vancouver
Pro: Jeff Boag
Email: squash@hollyburn.org
Courts: Six international glass back and one glass back North American doubles court
VSL MEMBER CLUB

+
North Shore Winter Club – North Vancouver
Courts: Two international
+
Richmond Sports Club and Fitness Centre – Richmond
• OPEN TO PUBLIC
Courts: Two international ($10 drop in)

+
The River Club – Richmond
Pro: John Fleury
Email: john@river-club.com
Courts: Four international (three are glass back)
VSL MEMBER CLUB

+
Ron Andrews Recreation Centre– North Vancouver
• OPEN TO PUBLIC
Court Bookings: (604) 983-6501 – Drop in $6.45
Courts: One international
+
Sand Castle Fitness and Racquets – Whiterock
(formerly Great West Fitness)
Courts: One international
VSL MEMBER CLUB
+
South Arm Community Centre – Richmond
• OPEN TO PUBLIC
Court Bookings: (604) 718-8060 ‎ – Drop in before 5pm $5.60 – After 5pm $9.41
Courts: Two international glass backs
+
Sport Central – Richmond
Pro: TBD
Courts: Five international glass backand one North American doubles court
VSL MEMBER CLUB

+
Squamish Valley Squash Club – Squamish
Email: scc@squamishsquash.com
Court Bookings: (604) 898-9521 – $10 Drop-in fee
Courts: Two international
+
Meadow Park Sports Centre – Whistler
• OPEN TO PUBLIC
Courts: Two international (one is glass back)
DOUBLES COURTS
Evergreen Squash Club – North Vancouver
Hollyburn Country Club – West Vancouver
Vancouver Lawn Tennis & Badminton Club – Vancouver
Vancouver Racquets Club – Vancouver
Save
Save
Save
Save
Save
Save