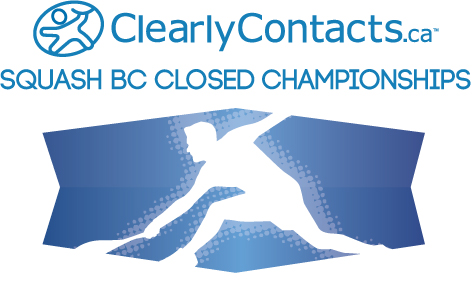 This 2014 BC Closed will be held at the beautiful Hollyburn Country Club which is situated mountainside, overlooking downtown Vancouver, on 42 acres of West Vancouver's renowned British Properties. This event is the premiere event on the Squash BC calendar and is a AAAA tournament. Winners of this event will represent British Columbia at the 2014 Canadian Squash Championships which will be held April 30 – May 4, 2014 at the Royal Glenora Club in Edmonton.
HOST & MEDIA INFO
Hollyburn Country Club is located at:
950 Crosscreek Road
West Vancouver, BC
V7S 2S5
For information regarding the event please contact Hollyburn's squash professional
Jeff Boag Telephone (604) 913-4525 or Email – squash@hollyburn.org
PLAYER INFO
• ATTIRE of any color can be worn. CLEAN, NON-MARKING footwear is required..
• Hollyburn Guest PARKING is located in the lower lot around the outdoor tennis courts. If you park in MEMBER ONLY spaces you may be towed at your own expense.
• MEN'S and WOMEN'S SPAS/CHANGE-ROOMS are accessible on the lower level of the club. Towels are provided.
• The FITNESS CENTRE is for members only. Warm up bikes are available for use in the squash centre.
• The BISTRO + PANORAMA Bar & Grill are available for your use.

EVENT INFO
1) ALL 2014 BC Closed matches will be played at Hollyburn.
2) Juniors MUST wear eye-wear (recommended for all players)
3) Match times unfortunately, cannot be altered. Every effort has been made to accommodate known time constraints. There are 113 entrants and 215 scheduled matches.
4) 15 minute DEFAULT rule will be enforced.
5) No refunds will be issued.
6) All matches are best 3 of 5 games. PAR scoring to 11 (win by 2)
7) BOTH Winner and Loser are required to score/referee the following match. (This is a new Squash BC initiative.)
8) REGISTRATION will commence FRIDAY at 6PM within the doubles court at the back of the Squash Centre.
9) To reach the registration/court control desk please call 604-922-0161 and ask to be redirected to the squash courts.
10) Please check in prior to each match with 'court control'. If you don't check in we won't know you are present and you may be defaulted.
11) IF you must withdraw or forfeit a specific match please let 'court control' know so we can inform your opponent. Call using the number provided above or email, squash@hollyburn.org
action.
12) 2013 Winners are asked to return Provincial trophies/awards to the Registration desk.
13) The SATURDAY evening EXTRAVAGANZA takes place in the Squash Centre during semi-final action. (6-9pm)
It will feature pub style appies, OK Spring beer, Mission Hill wine and door prizes (must be present to win)
F&B is provided for participants only. A cash bar will be on site for guests.
DRAWS
The draws are being hosted by Sporty HQ and can be found on their website.
How to access your SportyHQ account:
Because you're a member of SquashBC, you will already have a SportyHQ account. To activate it if you haven't logged in to SportyHQ before, go to: https://www.sportyhq.com/letmein and type in the same email address you have on file with SquashBC. If you've already activated your SportyHQ account, you can login here: https://www.sportyhq.com/authentication/login
FINALS
Women's Open (Draw of 12) – Sunday @ 1:00pm
Women's B (Draw of 6) – Sunday @ 12:00pm
Womens C (Draw of 6)- Sunday @ 12:00pm
Mens Open (Draw of16) – Sunday @ 2:30pm
Mens 40+ (Draw of 6)- Sunday @ 12:00pm
Men's 50+ (4 – Round robin) No final
Men's 60+ (Draw of 6)- Sunday @ 10:20am
Mens A (Draw of 28) – Sunday @ 11:30am
Mens B (Draw of 16)- Sunday @ 10:20am
Mens C (Draw of 13) – Sunday @ 11:00am

Total number of participants – 113
SOCIAL MEDIA
FACEBOOK event page
Twitter: #2014BCClosed
SPONSORS
Clearly Contacts
Goldrock Mines Corp
Newmark Knight Frank Devencore
Bimini's
Fulcrum
MAKE
Manta World Sport
Mission Hill
Printer Works
Promosapien
Rockingham Engineering Limited
Software King
Sporty HQ
Squash Republic
TD