Squash Republic is proud to be a sponsor of the 2013 Western Canadian Doubles at Evergreen Squash Club.
> Here's one of our MATCH BALL® videos.
> More videos are available on the Squash Republic YouTube page.
> Check out our photos of the event on the Squash Republic Flickr page.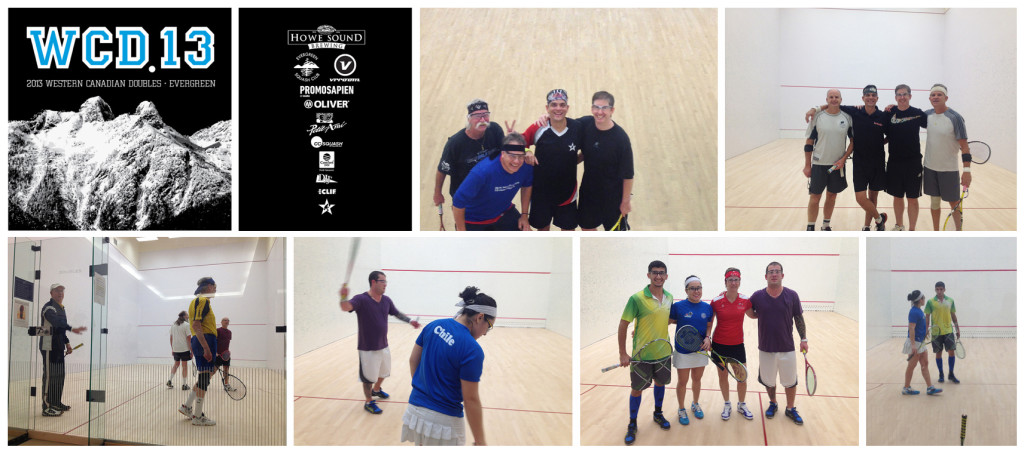 > Check out more images of the event at Mr Forbz' photo website.
> Here are the results at a glance. Be sure to check out the tournament website for the complete draws.
MIXED OPEN
1st – Katherine Johnson Rowan and Michael Leckie
2nd – Cathy Covernton and Jason Guiffre
Cons – Natasha Doucas and Robert Pacey
MIXED DIV 1
1st – Melissa Troll and Bruce Pope
2nd – Mike Carrier and Linda Wolfenden
Cons – Diane Grady and Warren Woodman
WOMEN'S OPEN
1st – Alicia Haneine and Emma Parke
2nd – Frances Frost and Cathy Covernton
Cons – Ruth Castellino and Katherine Johnson Rowan
MEN'S OPEN
1st – Viktor Berg and Jason Del Vicario
2nd – Andrew Smart and Tim Martin
Cons – tbd
DIV 1 OPEN
1st – Richard Dustan and Brian Gulayets
2nd – Patrick Frost and Emilio Haneine
Cons – Gary Bombay and Glenn Sorensen
DIV 2 OPEN
1st – Charles Bristow and Maurice Goulet
2nd – Ron Bailey and Bob Bogue
VETS 40+
1st – Mark Heaney and Kevin Johnson
2nd – Steve Lawton and Ingus Silgailis
Cons – Robert Pacey and Mark St Georges
VETS 50+
1st – Brian Covernton and Glen McNeil
2nd – Derrick Cameron and Gary Johnson
Cons – David Canning and Chris Davies
VETS 60+
1st – Rick Kochanski and Noel McDowell
2nd – Rob Forrest and Doug MacDougall
Cons – Ed Berwick and Lynn Broman