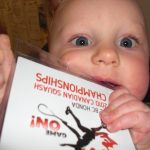 (Ryder Montez Jans-Burke)
The 2010 Canadian Squash Championships are in the books but I wanted to take a moment to congratulate and thank a few people who assisted me on the Companion Event that was held at The Vancouver Racquets Club.
Thanks to Steve Lawton for helping me organize things at the club and lending an ear to this first-timer. To Kevin Kydd for working on the draw with me and helping me to calm down on the first day of the event:) To Robert Trepanier, club manager, for helping me out with the Grand Circuit Finale and for getting the cheques to Squash Canada. To all the members of VRC who gave up the club for the four days (except those two guys who kicked a semi-final off the court so they could play their box match LOL!).
Thank you to my volunteers: Troy Brown, Ben Cook, Geoff Falk, Peter Francis, Max Hakh, John King, Anna Kirbyson, Nicola Martin, Shawn Patton, Gerry Takeuchi and Vanessa Van Hove. I also can't forget my new amigos from Calgary who between them probably reffed a dozen matches: Thanks Paul Adamiak, Matt Huntley and Scott Valliere.
HERE ARE YOUR WINNERS!
Women's B Gold – Donna Pakulak (BC) over Anna Kirbyson (BC)
Women's B Silver – Jamie Sonego (AB) over Cindy Goudrey (BC)
Women's B Bronze – Karen Stierhoff (BC)over Carol Jamieson (BC)
Women's C Gold – Crash Yablonka (AB) over Sue Hall (BC)
Women's C Silver – Stephanie McConnell (AB) over Shelley Shearer (BC)
Women's C Bronze – Robin Harper (BC) over Cheland Lee (BC)
Men's B Gold – Brad Harris (ON) over Cameron Bennett (BC)
Men's B Silver – Paul Adamiak (AB) over Marc Poier (BC)
Men's B Bronze  – Troy Brown (BC) over Bruce Madu (BC)
Men's C Gold – Scott Valliere (AB) over Matthew Huntley (AB)
Men's C Silver – Jack Cartmel (BC) over Nolan Derby (AB)
Men's D – 1st place – Ty Sullivan (ON)
Men's D – 2nd place – Safwan Rafique (AB)
Check out the official draws HERE.
NOTABLES
Some of these people actually won on the court too but will not be forgotten soon:)
Best Dressed: Ty Sullivan, ON.  This guy was decked out every day and even got a "Conduct Warning" for attire from the manager at Arbutus! This is Ty moments after winning the Men's D.

Most Sportsmanlike: Jimmy Valliere (left below). I thoroughly enjoyed watching Jimmy play his matches where he was consistently cordial and honest to a fault. I'm only sorry we didn't get to see him and his father, Scott (Sir Call-a-lot:), (Men's C Champion!) battle it out in the final.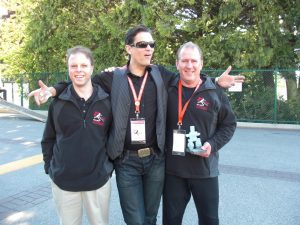 (Above: Jimmy Valliere, Pacey and Scott Valliere)
Best Walk-Over: This is a tie. Jade Carter, BC,  the number one seed in the Men's B had to default because he had a ticket to the Canucks. They lost 6-4 that night and he said he'd never forgive them! The player he defaulted to, Cameron Bennett, BC, walked into the finals where he was dispatched by Brad Harris, ON.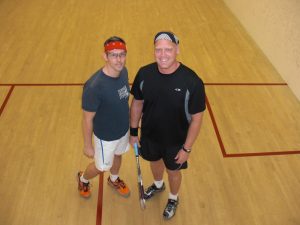 (Above: Bennett and Harris)
Best Sandbagger: That's a tough call as the B's, I discovered, had four "A" players from around the country. I'll have to give it to Paul Adamiak, AB, because while he lost in the second round (to a yound sandbagger from Ontario, Jesse Hornstein-Goldberg) he rebounded to win the Silver handily and even squeaked out a win over me on Saturday.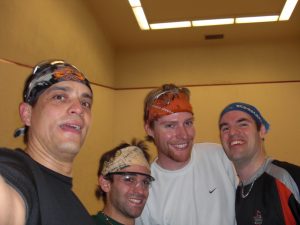 (Above: Pacey, Adamiak, Huntley and Brown)
Best Dingles Player: There's something glorious about watching a seven foot tall player jump up for a ball and whiff. Congrats to Matthew Huntley, AB, who helped me improve my lob and smiled the whole time. Troy, Paul, Matt and I have rewritten the Unofficial Rules of Dingles and I'll post them soon.
Click on the montage below to check out more photos!